LANSING, Mich. — Sen. Ruth Johnson on Wednesday spoke out against legislation to delay a program to help military voters. Under current law, the secretary of state was supposed to have a system for secure, electronic return of military ballots in place for the 2024 election, but the bill approved by the Democratic-controlled Senate on Wednesday would delay it until September 2025.
"The secretary of state has already had a year to work on the implementation of the bipartisan law I sponsored to help our military men and women to vote more easily and securely," said Johnson, who served as Michigan secretary of state from 2011 to 2018. "The department has had — and continues to have — more than adequate time to get this system up and running ahead of the 2024 election — with the 2024 general election still being over a year away. I worked very hard as secretary of state to implement things in the timeframe provided for by laws, and I do not think it unreasonable that the current secretary of state should do the same.
"Asking for a delay until September 2025 is unreasonable and will disenfranchise our military men and women by depriving them of this secure tool to vote more easily in the upcoming state and federal elections."
Public Act 197 of 2022, sponsored by Johnson, allows for the secure, electronic return of absent voter ballots of members of the armed forces, who are on active duty and serving outside of the U.S. beginning Jan. 1, 2024. The law requires the use of a Department of Defense-issued Common Access Card, or CAC, the same technology used by the military to transmit classified documents.
Senate Bill 470 would push back the date when out-of-state military members may electronically return a ballot to Sept. 1, 2025. The date by which the secretary of state is required to promulgate rules to implement the 2022 law would also be changed to Sept. 1, 2025.
Prior to passage of SB 470, Johnson offered an amendment to change the date in the bill from Sept. 1, 2025 to July 1, 2024. The amendment failed.
"My amendment would have given the secretary of state an additional six months for her office to do the work necessary to help our overseas military members vote, which would have allowed them to use this option for the 2024 election," Johnson said. "It only takes nine months to make a baby, I think the secretary of state should be able to get this done with another nine months on top of the year she has already had."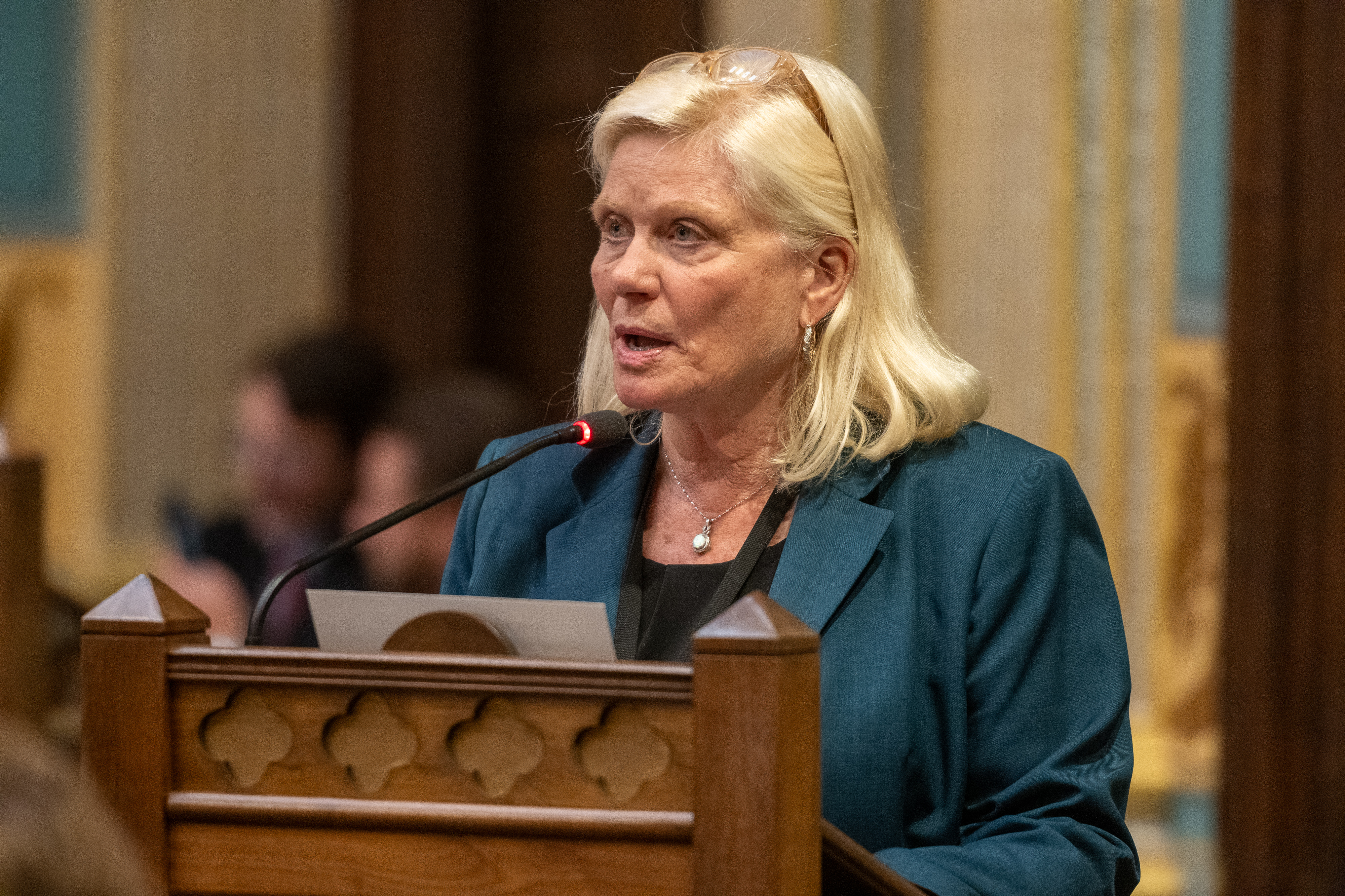 ###
Editor's note: Video of Johnson's Senate floor remarks on her amendment and opposing the final passage of SB 470 will be available online at SenatorRuthJohnson.com/video/.
The above photograph is available by clicking on the image or visiting SenatorRuthJohnson.com/photos/.
Photo caption: Sen. Ruth Johnson, R-Holly, speaks in opposition to Senate Bill 470, which seeks to delay implementation — until after the 2024 election — of a bipartisan 2022 law to allow active-duty military members serving overseas to electronically return their ballots.