LANSING, Mich. — The Michigan Senate on Wednesday approved Sen. Ruth Johnson's resolution to increase motorcycle safety on Michigan roads.
"Michigan has over 187,000 registered motorcycles and more than 536,000 people who have operator licenses with a motorcycle endorsement," said Johnson, R-Holly. "The emergence of warm weather is synonymous with the return of motorcycle enthusiasts to our state's roadways — making this the perfect time to highlight safety.
"The disproportionate number of motorcycle fatalities makes it critical to encourage motorcyclists to understand and practice the highest degree of safety. It is also important for other drivers to be alert for motorcyclists. Look twice to save a life."
Johnson was joined at the Capitol by members of ABATE of Michigan for the resolution adoption. ABATE, an acronym for American Bikers Aiming Toward Education, is a nonprofit organization dedicated to preserving the overall rights and promoting the safe operating practices of all Michigan motorcyclists.​​​
Senate Resolution 57 commemorated May 2023 as Motorcycle Safety Awareness Month in Michigan.
SR 57 says that Motorcycle Safety Awareness Month encourages motorcycle operators to don proper protective riding attire, maintain their motorcycles using safety and maintenance checks found in the owner's manual, abide by the laws of the road, and implement operating techniques providing an additional standard of safety.
It also seeks to remind car and truck drivers that motorcyclists are resuming their travels on Michigan public roadways and to be exceptionally vigilant and watchful when approaching or passing a motorcycle on the highway.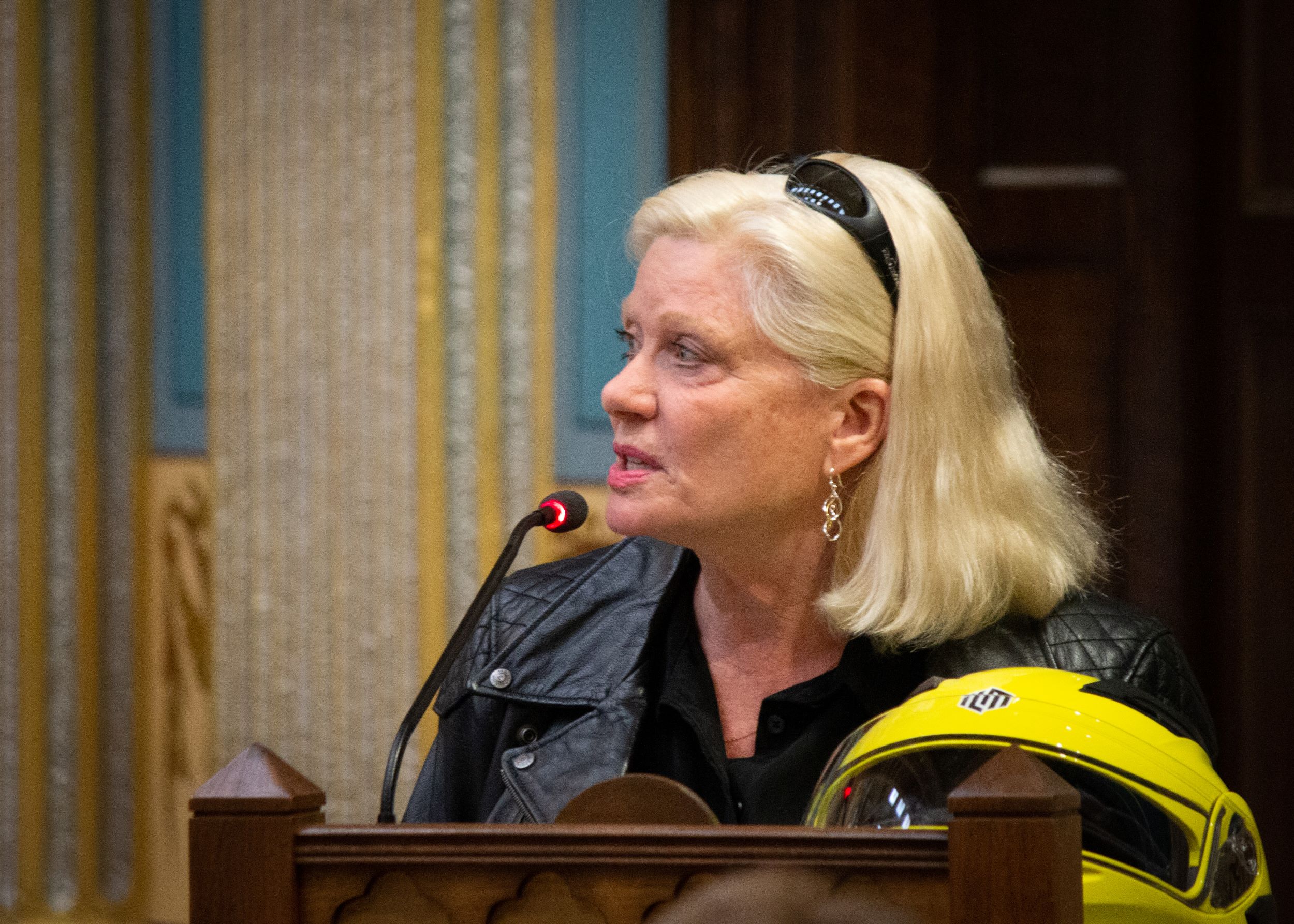 ###
Editor's note: Sen. Johnson's Senate session remarks on the resolution will be available at SenatorRuthJohnson.com/video.
The above photograph is available by clicking on the image or by visiting SenatorRuthJohnson.com/photos.
Photo caption: Sen. Ruth Johnson, R-Holly, wears her motorcycle jacket on the Senate floor as she addresses the Senate about her resolution commemorating Motorcycle Safety Month in Michigan.